CONTACT
Tel:0086-21-37023710
Toll free(China Only):400-888-2079
E-mail: sales@51chinatent.com
Pagoda tents with a standard 2.3m side height are available with structure sizes of 3x3m, 4x4m, 5x5m, 6x6m and 10x10m, pagoda tents use 3 channels 89x68x3mm hard pressed extruded Aluminium, the sidewalls and roof covers are manufactured of PVC-coated polyester textile(Opaque 850g/sqm), flame retardant to DIN4102 B1,M2. The fabric are available in translucent or transparent, the wind loading for pagoda tents are 60km/h (0.3kn/m2).
Optional accessories for Pagoda tent: flooring system, glass walling system, door units, earth anchors, lining and so on.
Pagoda tents can be used as single unit or with rain gutter they can be combined to larger space and special structure styles, they could make your outdoor events with great visual impact.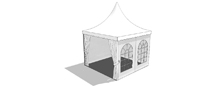 PAGODA TENTS
Span width:3M、Eave height:2.3M、Ridge height:3.98M
0300/230
Span width:
3m
Eave height:
2.3m
Ridge height:
N/A
Peak height:
3.98m
Bay distance:
3m
Roof pitch:
20°
Longest component:
3.45m
Minimun length:
6m
Maximum length:
Unlimited in 3.00m increments
Snow londing compliance:
N/A
max allowed wind speed to DIN:
80 km/h
Main profile size:
81mm×48mm×3mm
Eave connecttion type:
Internal Galvanised Steel Insert
---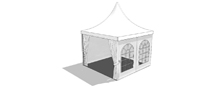 PAGODA TENTS
Span width:4M、Eave height:2.3M、Ridge height:4.56M
0400/230
Span width:
4m
Eave height:
2.3m
Ridge height:
N/A
Peak height:
4.56m
Bay distance:
4m
Roof pitch:
N/A
Longest component:
3.45m
Minimun length:
6m
Maximum length:
Unlimited in 3.00m increments
Snow londing compliance:
N/A
max allowed wind speed to DIN:
80 km/h
Main profile size:
81mm×48mm×3mm
Eave connecttion type:
Internal Galvanised Steel Insert
---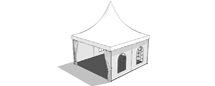 PAGODA TENTS
Span width:5M、Eave height:2.3M、Ridge height:5.15M
0500/230
Span width:
5m
Eave height:
2.3m
Ridge height:
N/A
Peak height:
5.15m
Bay distance:
5m
Roof pitch:
N/A
Longest component:
3.45m
Minimun length:
6m
Maximum length:
Unlimited in 3.00m increments
Snow londing compliance:
N/A
max allowed wind speed to DIN:
80 km/h
Main profile size:
81mm×48mm×3mm
Eave connecttion type:
Internal Galvanised Steel Insert
---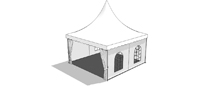 PAGODA TENTS
Span width:6M、Eave height:2.3M、Ridge height:5.66M
0400/230
Span width:
6m
Eave height:
2.3m
Ridge height:
N/A
Peak height:
5.66m
Bay distance:
6m
Roof pitch:
N/A
Longest component:
3.45m
Minimun length:
6m
Maximum length:
Unlimited in 3.00m increments
Snow londing compliance:
N/A
max allowed wind speed to DIN:
80 km/h
Main profile size:
81mm×48mm×3mm
Eave connecttion type:
Internal Galvanised Steel Insert
Side Walls

Ways To Fix the tents

Lighting

White PVC wall, French Window, Glass wall, ABS Solid wall, Sandwich Panel or Steel Sheet for your choice.

Swell screws on concrete ground

Earth anchor for grassland

Heavyweght plate

Various lighting system for your option

Decoration Liner

Flooring

HVAC

Various colors and materials for your option, we can meet all your requirements perfectly.

We supply block floor and simple floor, which is necessary for activities.

We supply various heating and refrigeration solutions.


Furniture

Heating

Grandstand

Various types of banquet tables and chairs, bar counter, barstool, council board with beautiful decoration, provide you elegant atmosphere.

Gas heater or gas heating furnace, we have umbrella-type and cabinet-type, can both use liquefied petroleum gas and natural gas.


We have very professional construction team, always finish the task in time, so as to meet your requirement.

Color tailormade

Event production

Other accessories

Colors can do according to your requirement, print your logo to show your brand to the maximum.


Background plate, printed advertising cloth, color banners make your theme bright and leave deep impression for the guests.


Mobile toilets, flags, and other ancillary facilities, our professional team always do better for you