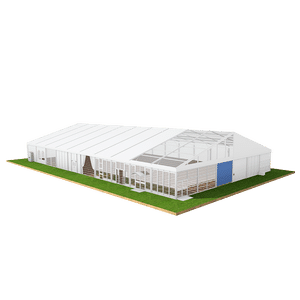 Most Popular Clear Span Tent
A-shape tent (also known as A-Frame tent) is our standard and most popular design. A-shape tent is the most conventional type of industrial and commercial clear span tent as per the client demand quota.
These A-shape tents are using a strong aluminum alloy frame and easy to set up and dismantle as well as convenient to stock and transport. All our tents are well manufactured by our qualified manufacturing department.
A-shape tent is the perfect solution for a big crowd event such as weddings, parties, corporate events, trade shows, fashion shows, summer balls, and many other events that require more space and less obstruction. Its well-designed structure makes sure that there aren't many poles on the interior but rather on the exterior of the tent.
我们的A形帐篷的跨度宽度从3米到60米(5米,10米,15米,20米,25米30米,35米,40米,45米,50米,60米),长度没有限制。长度可以是3m,5m模块化的任何时间。帐篷内没有杆子,可以最大限度地利用内部空间。最受欢迎的尺寸是6x12m,9x15m,10x20m,12x30m,15x40m,20x30m,20x50m,25x60m,30x60m,30x100m,40x100m,50x100m等。这种净跨度帐篷被广泛用作婚礼帐篷、活动帐篷、仓库帐篷、展品帐篷、派对帐篷等。
Our Clear Span Tent Sample Video
Models & Sizes (Span width from 3M to 50M)
| Span Width | Eave Height | Ridge Height | Bay Distance | Longest Component | Wind Load |
| --- | --- | --- | --- | --- | --- |
| 3m | 2.7m | 3.23m | 3m | 3.00m | 80km/h |
| 4m | 2.7m | 3.41m | 3m | 3.00m | 80km/h |
| 5m | 2.7m | 3.59m | 3m | 3.05m | 80km/h |
| 6m | 2.7m | 3.78m | 3m | 3.17m | 80km/h |
| 8m | 2.7m | 4.2m | 3m | 4.35m | 80km/h |
| 10m | 2.7m | 4.53m | 3m | 5.36m | 80km/h |
| 12m | 2.7m | 4.87m | 3m | 6.35m | 80km/h |
| Span Width | Eave Height | Ridge Height | Bay Distance | Longest Component | Wind Load |
| --- | --- | --- | --- | --- | --- |
| 3m | 2.7m | 3.23m | 3m | 3.00m | 80km/h |
| 4m | 2.7m | 3.41m | 3m | 3.00m | 80km/h |
| 5m | 2.7m | 3.59m | 3m | 3.05m | 80km/h |
| 6m | 2.7m | 3.78m | 3m | 3.17m | 80km/h |
| 8m | 2.7m | 4.2m | 3m | 4.35m | 80km/h |
| 10m | 2.7m | 4.53m | 3m | 5.36m | 80km/h |
| 12m | 2.7m | 4.87m | 3m | 6.35m | 80km/h |