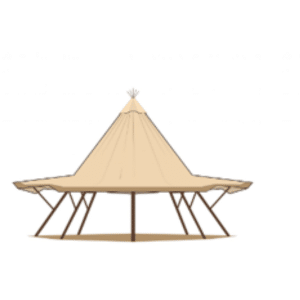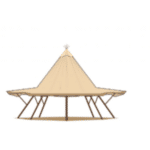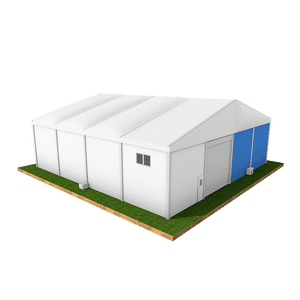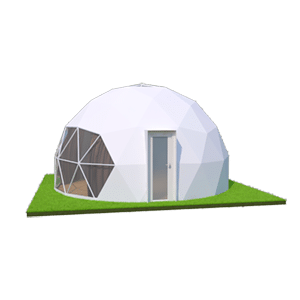 Most Popular Glamping Dome Tent
The Glamping Dome Tent exudes an alluring and sophisticated aesthetic appeal. It seamlessly integrates with household amenities, appliances, and kitchenware, making it a versatile and easily deployable solution for a distinctive, comfortable, and tranquil living experience. Consequently, it has found widespread adoption in the realms of glamping camping and resort hotels.
The tent boasts a robust and secure structure, complemented by a portable installation package and an extensive array of accessories. These factors collectively contribute to the growing popularity of the Glamping Dome Tent, positioning it as a leading choice among glamping accommodations in recent years.
Gallery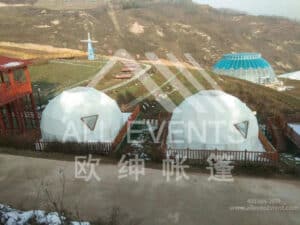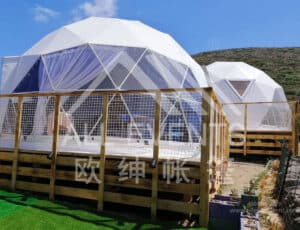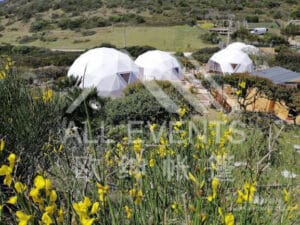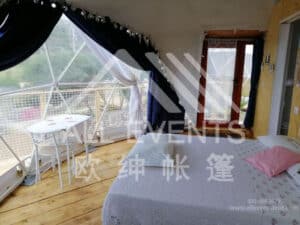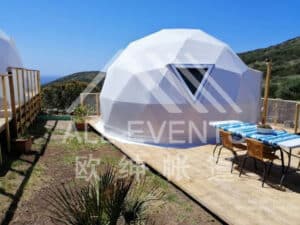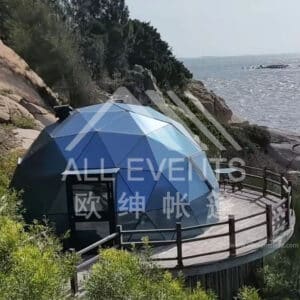 Models & Sizes (Span width from 3M to 50M)
Diameter
Top Height
Frame struts
Floor area
Capacity
(persons)
Wind Load
4m/13ft
2.5m
26x2mm
12.5
1-2
120km/h
5m/16ft
3m
26x2mm
19.6
2-4
120km/h
6m/20ft
3.5m
26x2mm
28.2
2-4
120km/h
7m/23ft
3.7m
26x2mm
38.5
2-4
120km/h
8m/26ft
4.2m
26x2mm
/32x2mm
50
2-6
120km/h
10m/32ft
5.2m
26x2mm
/32x2mm
78
2-6
120km/h
Features, Accessories and Cutom Design
Frame material
Hard pressed aluminum alloy T6061/T6
Fabric cover
double PVC-coated polyester textile; 100% waterproof;UV resistant, tear-resistant, self-cleaning ability, etc.
Roof cover
850g/sqm white PVC Fabric
Sidewall cover
650g/sqm white PVC Fabric
Fabric color option
White, yellow, transparent and customized
Connector
Strong hot-dip galvanized steel.
Allowed temperature condition
-30 degree Celsius +70 degree Celsius
Wind load
80-100km/h
Snow load
75kg/sqm (snow can't stay if use big degree roof pitch design)
Other features
Easy to assemble and disassemble
No pole inside, 100% available interior space
PVC window sidewalls
Anchoring
Lining and curtain
Glass door units
Glass walling system
Transparent PVC cover and sidewall
Flooring system
Weight plate
More accessories are available, please feel free to contact us.