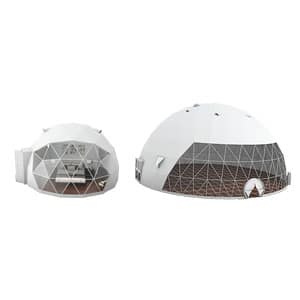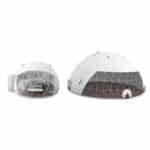 Event Dome Tent
2023年8月21日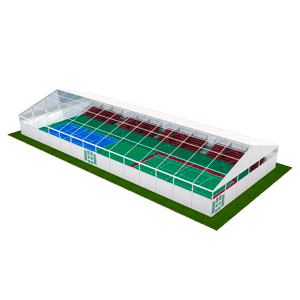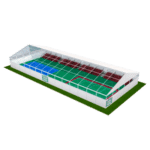 Semi-Permanent Construction
2023年8月23日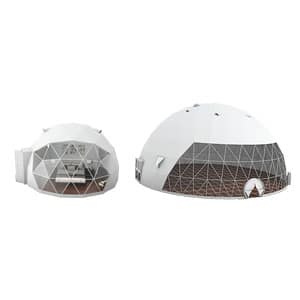 Geodesic Dome Tents
The Geodesic Dome Tent represents an innovative and distinctive architectural style, offering versatile functionality. It serves as not only an eye-catching event dome, ideal for creating showcase spaces at exhibitions and events but also excels as an exclusive setting for VIP gatherings, temporary party venues, and dynamic dining or shopping spaces. Moreover, it finds purpose as a temporary or semi-permanent venue for interactive entertainment, yoga or meditation sessions.
In addition, the Geodesic Dome has gained popularity as a luxurious glamping accommodation option, suitable for glamping resorts, hotels, parks, Airbnb hosting, or as a unique and immersive experience in one's garden or backyard.
Our extensive range of Geodesic Dome Tents encompasses a diverse selection, catering to various purposes such as Glamping Dome Tents, Event Dome Tents, Open Geo Dome Tents, Amphitheatre-Style Tents, Projection Dome Tents, and more. These tents serve as versatile solutions, finding applications in glamping resorts, high-profile events, festivals, weddings, trade shows, sports events, and beyond.
Our offerings include Geodesic Dome Tents with diameters spanning from 3 meters to an impressive 80 meters, providing flexibility for your specific requirements. Moreover, we offer a comprehensive customization service to tailor the tent to your precise specifications. Additionally, our range of roof cover options includes transparent and various colors, allowing us to meet your specific aesthetic and functional needs.
Gallery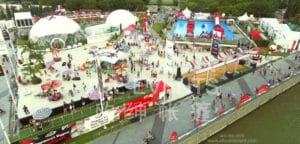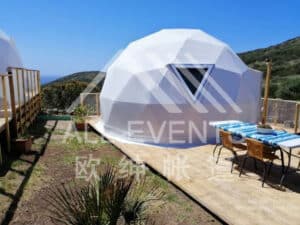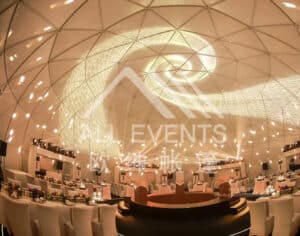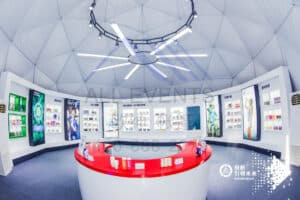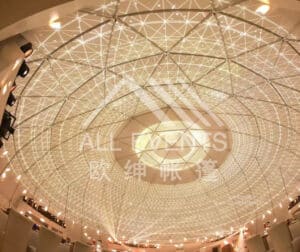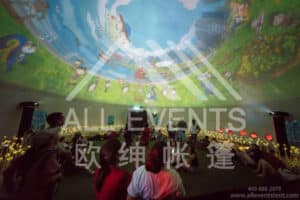 Models & Sizes (Span width from 3M to 50M)
Diameter
Top Height
Frame struts
Floor area
Capacity
(persons)
Wind Load
4m/13ft
2.5m
26x2mm
12.6
2
120km/h
5m/16ft
3m
26x2mm
19.6
2-4
120km/h
6m/20ft
3.5m
26x2mm
28
2-4
120km/h
7m/23ft
3.7m
26x2mm
38.5
1-4
120km/h
8m/26ft
4.3m
26x2mm
50.2
2-6
120km/h
10m/32ft
5.3m
32x3mm
78
20
120km/h
12m/39ft
6.2m
32x3mm
113
50
120km/h
15m/50ft
7.8m
32x3mm
177
80
120km/h
20m/66ft
10.2m
32x3mm
314
200
120km/h
25m/82ft
12.7m
42x3mm
491
650
120km/h
30m/98ft
15.2m
48x3mm
706
800
120km/h
35m/115ft
17m
48x3mm
961
500
120km/h
40m/131ft
18m
60x3mm
1256
700
120km/h
Features, Accessories and Cutom Design
Frame material
Hard pressed aluminum alloy T6061/T6
Fabric cover
double PVC-coated polyester textile; 100% waterproof;UV resistant, tear-resistant, self-cleaning ability, etc.
Roof cover
850g/sqm white PVC Fabric
Sidewall cover
650g/sqm white PVC Fabric
Fabric color option
White, yellow, transparent and customized
Connector
Strong hot-dip galvanized steel.
Allowed temperature condition
-30 degree Celsius +70 degree Celsius
Wind load
80-100km/h
Snow load
75kg/sqm (snow can't stay if use big degree roof pitch design)
Other features
Easy to assemble and disassemble
No pole inside, 100% available interior space
PVC window sidewalls
Anchoring
Lining and curtain
Glass door units
Glass walling system
Transparent PVC cover and sidewall
Flooring system
Weight plate
---