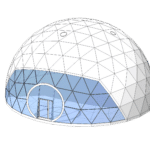 Geodesic Dome Tents
2023年8月21日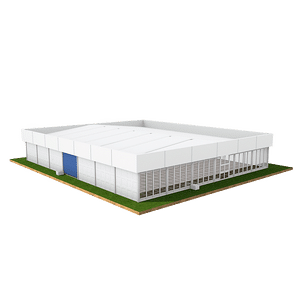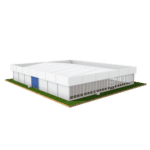 Thermal Cube Tent
2023年8月24日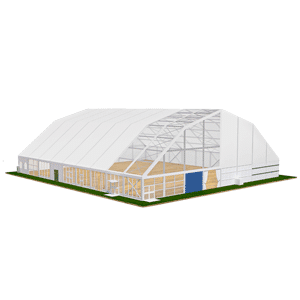 Semi-Permanent Construction–Tailored to Your Needs
From retail outlets to sports arena ,theaters to showrooms, All Events offers versatile permanent structure solutions for organizations seeking quick and adaptable space.
Whether you require a modular building or a customized structure to meet your specific needs, All Events provides permanent fabric structures, ensuring flexibility in dimensions and design. Our structures are designed to be easily dismantled after use or relocated to other locations, offering a sustainable and versatile solution for your space requirements.
Choose All Events for your permanent structures needs, and experience the convenience of tailored, quickly deployable, and flexible solutions.
We offer an extensive selection of tent products tailored for sports venues, encompassing indoor sports field halls and sports arena tents. Our solutions are cost-effective and cater to a wide range of indoor sports, including but not limited to tennis, football, badminton, basketball, swimming pools, and various other sporting activities.
Our tents are characterized by swift installation, ease of dismantling, and mobility. We specialize in designing and constructing high-quality solutions meticulously tailored to meet your specific requirements. Our process prioritizes safety, adherence to local regulations, and environmental considerations.
Gallery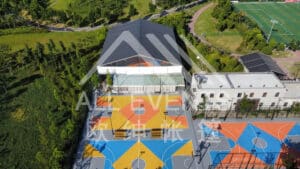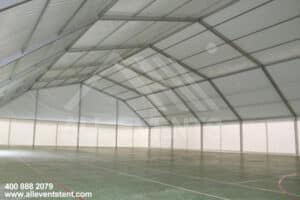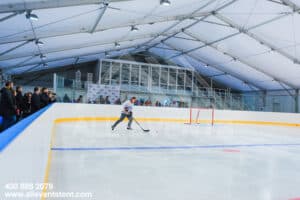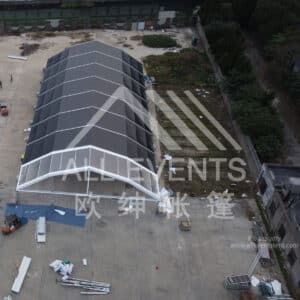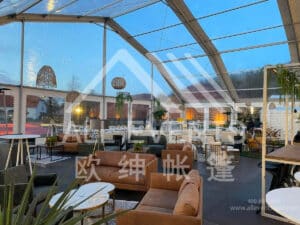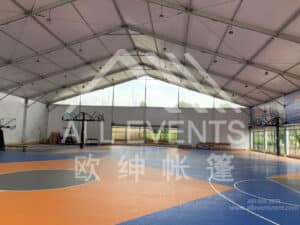 Our industrial and commercial temporary buildings provide the perfect solution for rapidly expanding your on-site storage, operational capacity, or retail space.
Designed to meet a wide range of applications, our temporary buildings excel in various roles:
Temporary Warehouses & Industrial Storage Sheds.
Temporary Workshop and Production Buildings.
Modular Retail Buildings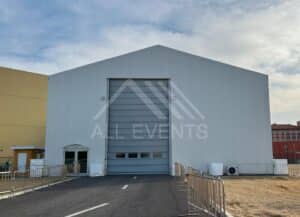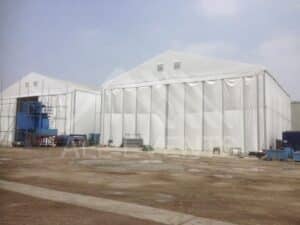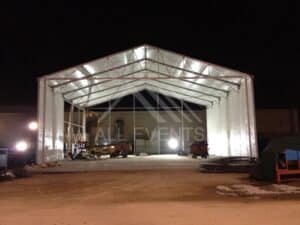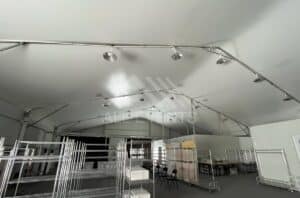 Models & Sizes (Span width from 5M to 50M)
| Shape&Width | Eave Height | Bay Distance | Wind Load |
| --- | --- | --- | --- |
| A shape 10-50m | 6.00m | 5m | >100km/h |
| Curve Shape 10-50m | 6.00m | 5m | >100km/h |
| TFS 10-30M | 6.00m | 5m | >100km/h |
| Polygon 10-30M | 6.00m | 5m | >100km/h |
| Customized size | 6.00m | 5m | >100km/h |
Customized size available.
Features, Accessories and Cutom Design
Frame material
Hard pressed aluminum alloy T6061/T6
Fabric cover
double PVC-coated polyester textile; 100% waterproof;UV resistant, tear-resistant, self-cleaning ability, etc.
Roof cover
850g/sqm white PVC Fabric
Sidewall cover
650g/sqm white PVC Fabric
Fabric color option
White, yellow, transparent and customized
Connector
Strong hot-dip galvanized steel.
Allowed temperature condition
-30 degree Celsius +70 degree Celsius
Wind load
80-100km/h
Snow load
75kg/sqm (snow can't stay if use big degree roof pitch design)
Other features
Easy to assemble and disassemble
No pole inside, 100% available interior space
Thermal Roof
Anchoring
Rain Gutter
Hard side panels
Roll door units
Ventilation system
Glass walling system
Transparent PVC cover and sidewall
Flooring system
Weight plate
More accessories are available, please feel free to contact us if you need more information.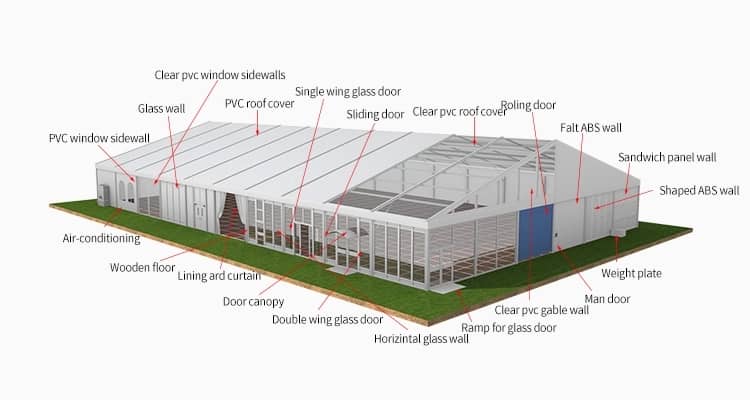 ---
More accessories are available, please feel free to contact us if you need more information.
Flexible Timeframes: our modular buildings can be easily dismantled and removed when they are no longer needed, on a schedule that suits your requirements.
Customizable Dimensions and Designs: The relocatable buildings from All Events are fully tailored to your specific needs, offering flexibility in both size and design.
Short Construction Times: we ensure rapid delivery and short construction times, minimizing operational disruptions and getting you up and running quickly.
Choice of Hire or Purchase.
Versatile Placement: Our semi-permanent structures can be erected on most sites or surfaces, whether it's extending your existing building, setting up in a new location, or utilizing your parking area.
Suitable for Various Applications: Restaurants, sports halls, showrooms, and theaters.
Energy Efficiency.
Sustainable Materials: